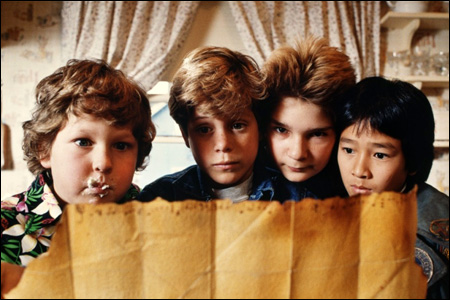 Goonies never say die! If you're like me, and you're of my generation,
The Goonies
holds a special place in your heart. Mikey. Mouth. Chunk. The Fratellis. Sloth. One Eyed Willy. And of course,
Jonathan Ke Quan
as Richard "Data" Wang -- a cinematic hero to me way back in the day.
This week,
The Goonies
celebrates its 25th anniversary with the release of a
collector's edition Blu-ray
with all kinds of extras and bonus features. To commemorate the occasion, some of the cast and crew -- including Jonathan Ke Quan -- reunited last week on the Warner Brothers lot. Here's some
footage
from the reunion:
In case you were interested in seeing what Data would look like at 39-years-old. Unfortunately, for those who have been hanging on to hope for a long-rumored
Goonies
sequel, it's time to let go of a good thing -- it's probably not going to happen:
Filmmakers Finally Close The Books On A Proposed 'Goonies' Sequel
. You can, however, look forward to a
Goonies musical
(?!)