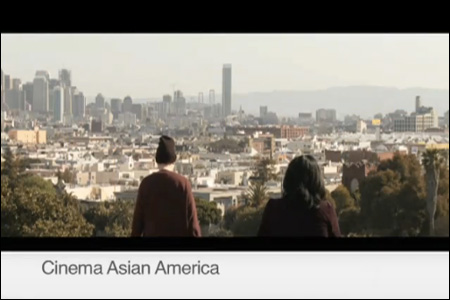 Today marks the launch of
Cinema Asian America
, cable provider Comcast's new On Demand destination dedicated to Asian American content, featuring film classics, award-winning movies featured on the film festival circuit, and short- and feature-length works with genres ranging from documentary to experimental. Here's the long
trailer
for this month's programming:
Each month, Cinema Asian America will highlight various themes that explore a range of topics and experiences and exemplify the diversity of the Asian American community. For its inaugural month, Cinema Asian America is offering a wide selection of award-winning films that have received honors both commercially and critically, under two thematic groupings.
"The Life Quixotic" presents films that feature characters "who are taking romantic, impulsive and idealistic approaches to life challenges." Films in this section include:


Fruit Fly - Filipino American musical directed by H.P Mendoza



White on Rice David Boyle's hilarious Japanese American family comedy



The Rebel - Blockbuster Vietnamese action film directed by Charlie Nguyen



Treeless Mountain - Moving Korean American coming-of-age tale directed by So Yong Kim


The second thematic section is "Must-See Docs," a grouping of critically-acclaimed, award-winning documentaries. Films include:


Planet B-Boy - Breakdancing documentary directed by Benson Lee



A Song for Ourselves - Tadashi Nakamura's short film which looks at the life of Japanese American activist and musician Chris Iijima



The Killing of a Chinese Cookie - Derek Shimoda's oddball history of the fortune cookie


This is a strong collection of films, and there are a lot more where those came from. Here's the press release from Comcast:
Comcast Launches Cinema Asian America on Demand
.
Say what you will about Comcast, but I have a lot confidence in Cinema Asian America's programming because it's being curated by my friend Chi-hui Yang, former Director and Programmer of the San Francisco International Asian American Film Festival. I'm looking forward to seeing future programming and more initiatives like this.
So if you're a Comcast subscriber, you can access Cinema Asian American in your On Demand menu. It doesn't look like it has a website yet, but in the meantime keep an eye on Cinema Asian America's
YouTube channel
.