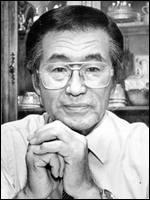 Frank S. Emi, a Japanese American who served time in federal prison for protesting the U.S. government's effort to recruit internees for military service, died earlier this month. He was 94:
Frank S. Emi dies at 94; Japanese American fought effort to draft WWII internees
.
In 1942, Emi and his family were relocated from Los Angeles to Heart Mountain camp in Wyoming. Two years later, when the government decided in early to reopen the draft to Japanese American men in the camps, Emi joined six other internees to oppose the order.
Emi was the last surviving member of the Fair Play Committee, an ad hoc group that dared to ask how they could be ordered to fight for freedom and democracy abroad when they were denied it at home:
The Fair Play Committee was responsible for the only organized draft resistance effort in the camps. Their defiance resulted in the imprisonment for draft evasion of 300 men from 10 camps. The seven leaders of the movement were convicted of conspiracy to violate the Selective Service Act. Emi — who had a deferment because he was married and had children — served 18 months at the federal penitentiary at Leavenworth, Kan.

"I admired him tremendously," said Eric L. Muller, a constitutional law expert at the University of North Carolina who wrote a book about the Japanese American draft resisters. "He was one of the really small number of Japanese Americans of his generation who found the courage in camp to develop an articulate public position questioning the legality of what was being done to the Japanese American community, and he very much paid the price for that."
Among Emi's Nisei generation, the Japanese American soldiers who fought in the highly decorated 442nd Regimental Combat Team are usually the heroes who get the attention. But you have to give credit to resisters like Frank Emi for their own important wartime stand. Be sure to read the full
Los Angeles Times
obituary
here
.