UPDATE: The contest is now closed! Thanks to all who entered to win the
Ong Bak
Ass Kicking DVD Prize Pack. Winners will be notified shortly.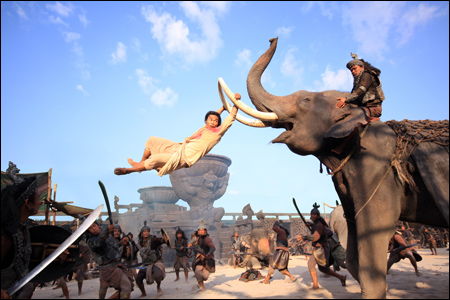 Do you want to see some asskicking? Movie asskicking, of course. Yes, you do. Thai action superstar Tony Jaa writes, directs, produces and stars in the martial arts epic
Ong Bak 3
, the third and final installment of the hit movie action series. It's now available on VOD, XBOX, Playstation and Amazon.com. Here's the
trailer
:
Oh, you like that? Check out this action
clip
:
Now, if there's this much asskicking in just a one minute clip, imagine how much action you get in the entire feature. Here's the official synopsis:
Picking up at the cliffhanger ending where Ong Bak 2 leaves off, Jaa ramps up the epic supernatural elements of the previous film, while still maintaining the trademark bone-crunching action that the series is known for. This time he must face his ultimate enemy: a fierce supernatural warrior named "Demon Crow," played by fellow martial arts sensation Dan Chupong (Dynamite Warrior). Eagerly anticipated by martial arts aficionados for some time, the matchup of Jaa and Chupong is explosive.
To celebrate the release of
Ong Bak 3
, in the spirit of all this inspiring asskicking, I'm giving away a martial arts DVD prize pack that includes copies of
Ong Bak
,
Ong Bak 2
,
Chocolate
,
Exiled
and
Dynamite Warrior
, courtesy of Magnet Releasing. (Okay,
Exiled
is not a martial arts movie, but that's what they're givng me.) So... want some free stuff?
Here's how to enter for your chance to win... First, follow
@angryasianman
on Twitter. Then tweet this message:
I want to win the Ong Bak Ass Kicking DVD Prize Pack from @angryasianman! http://bit.ly/ob3dvd #aamgiveaway
. I will pick a winner at random, and one lucky person will get the prize pack. (EDIT: I had to tweak the tweet a little, but all tweets entered prior to the change are still valid.)
Please, only one entry per person/Twitter account. Cheaters will be publicly shamed. The giveaway ends on Thursday, December 30. Winners will be announced on Twitter and will receive a Direct Message with further information. This giveaway is open to U.S. residents only. Sorry, rest of the world.
Like I said,
Ong Bak 3
is currently available on VOD, XBOX, Playstation and Amazon.com. It will open in limited theatrical release in the U.S. on January 14. For more information on
Ong Bak 3
, go to the movie's official website
here
.