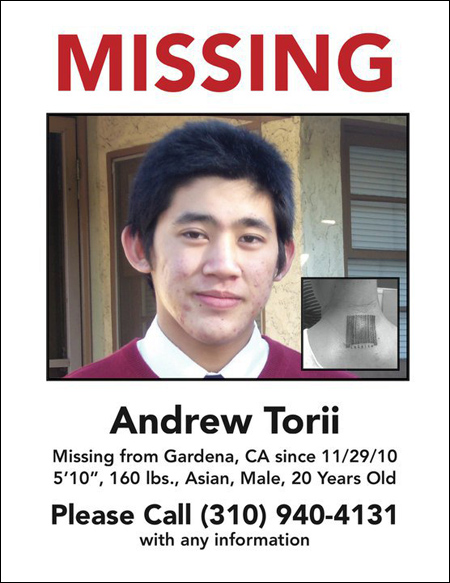 In Gardena, California, 20-year-old El Camino student
Andrew Torii
has been missing for several weeks, since November 29. He left in the middle of the night, and didn't take his car, wallet or cell phone. Needless to say, his family, friends and loved ones are worried:
Andrew left his house early Monday (11/29/10) morning between 1 am and 6 am. Andrew left a note on his bed saying he was picked up by a friend, he was staying overnight with the friend, he's very stressed out and he would be back Tuesday (11/30/10) after class.

Andrew did not take his car. He did not take his cell phone. He did not take his wallet. However, we believe he took his California drivers license, cash, Apple Mac Book laptop, camera, a skateboard, contact lenses, glasses and a backpack.

Here are some things that seemed to peak Andrew's interest: beaches; snowboarding; the book "Into the Wild"; SFO; and New York City.
Here's the link to his entry on California's missing persons database:
Andrew James Torii
. And more information on this Facebook page:
MISSING - PLEASE HELP
. If you have any information on Andrew's whereabouts, please call 310-940-4131.