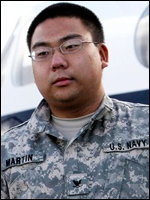 Oh, come on, man. Last week in North Carolina, the Naval Criminal Investigative Service -- that's right, the real life NCIS -- took petty officer Bryan Minkyu Martin into custody for allegedly selling classified documents and offering access to the Pentagon's computer networks:
Another Pentagon Security Leak; Sailor Allegedly Sold Secrets
.
Martin is a low-level Navy clerk with top secret clearance to Afghan war intelligence. According to the NCIS' search warrant, he sold 51 pages of classified documents to an FBI undercover agent posing as a representative of an unnamed foreign government:
In the case at Ft. Bragg, the affidavit says petty officer Martin allegedly boasted of his access to classified network systems, including "Joint special Operations Command Information Automated Network (JIANT), a network classified SECRET, and the Special Operations System (SOIS), a network classified TOP SECRET."

Martin told the undercover agent "that his current assignment focuses on Afghanistan, and that he will work for the Defense Intelligence Agency in the future," the affidavit said. Martin added "that over his prospective 15 to 20 years career, he could be very valuable."

Martin, of Mexico, New York, was tracked wearing his U.S. Navy uniform as he left his Ft. Bragg office and headed for the meeting with the FBI undercover agent, the affidavit said.

He provided the agent with 51 pages of documents, "48 pages of which were marked SECRET and three pages were marked TOP SECRET," according to the affidavit.
For a guy handling top secret government information, with relatively high-level clearance, Bryan Minkyu Martin sounds like kind of an idiot. And a traitor. For a lousy two grand? More here:
Warrant: N.C. Sailor Looked To Sell Military Secrets
.