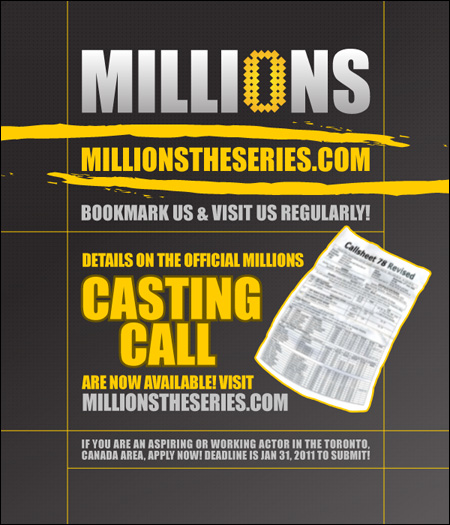 The Toronto-based web series
Millions
, which I've mentioned here before, recently put out a
casting call
for actors in the Toronto area to fill a number of non-union roles. I'm told that they've actually had a hard time finding interested Asian males... but maybe you're the guy they're looking for. Here's the series synopsis:
MILLIONS is the story of a crew of twenty-somethings in the picturesque suburban neighborhood of Adlard. Brandon (the dreamer) and his lifelong friends, Deron (the clown), Mary (the tomboy), Charlie (the cynic), Jay (the playboy), and Eddie (the brain), work mediocre 9 to 5 jobs, and waste away their nights bumming the streets aimlessly. The emptiness of their lives makes them apathetic, but not enough to do anything about it. Until a tragedy hits the group that sparks Brandon on a quest. In high school, the group made a pact to become millionaires by the age of 30. It was a childish dream that faded with time. But after recent events, Brandon refuses to let it go any longer. He persuades his friends to join him in becoming the millionaires they once promised each other they'd be - and prove that dreams aren't something so easily forgotten.
You must be non-union. No experience required. For more information about the series, a list of all the available roles and their descriptions, and further details on how to submit your headshot/resume, go to the
Millions
website
here
.