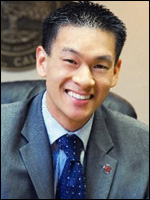 It's still a year and a half away from the 2012 primary, but according to this
San Jose Mercury News
article, a very interesting race is brewing in Northern California for the 24th District Assembly seat to be vacated by Jim Beall:
Internal Affairs: For local pols, battle for Beall seat could be tantalizing
.
Campbell Councilman Evan Low -- Asian, gay, Democrat -- could be facing off against San Jose Councilman Pete Constant -- white, straight Republican -- and the potential race has local political watchers salivating:
Because of the political energy of the two men, it nonetheless has the makings of a great race. Constant, an ex-cop who had pondered a run for sheriff in 2014 until incumbent Laurie Smith promised she'd run again, told IA he was still assessing his prospects. The councilman said the decision weighs in part on how the lines of the district will be redrawn by the new citizens' redistricting committee. (The 24th AD now looks like a low-hanging tripod, stretching into Campbell, south San Jose, and Berryessa).

Low, who did a stint as Campbell's mayor, said he's definitely running.

Under the new rules, the top two finishers in the June 2012 primary, regardless of party, will face off against one another in the general election. The early odds of line-drawing favor Low, but don't count Constant out: In his west side district, he's very popular among voters of both parties.
We always knew Evan Low was going places. You might recall that Low, the youngest openly gay elected official in California, was named one of the
30 Most Influential Asian Americans Under 30
here a while back.
Perhaps the weirdest little coincidence in this political matchup is that Constant, as a professional photographer, took Low's senior high school photo at Leland High School, class of 2001.