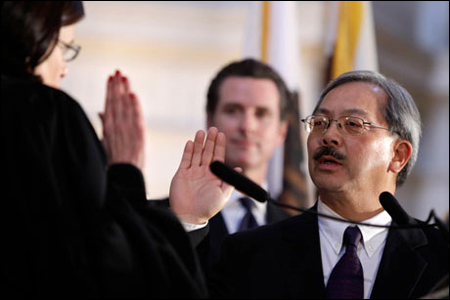 This is a great article from PBS'
Need to Know
on Edwin Lee, the freshly sworn-in new mayor of San Francisco -- and the city's first ever Asian American mayor:
'Fear the stache': San Francisco's first Asian mayor
.
The piece is written Brianna Lee, who just happens to Edwin Lee's daughter. She writes about the amazing experience of watching him getting sworn in at City Hall last week, the culmination of decades of work for civil rights, and what it means for her family narrative.
In that moment, watching the inaugural oath before thousands of people who came out to City Hall that afternoon, it was easy to see the unfolding of a familiar narrative, indisputably American at its core: A Chinese-American man, the fourth of six children of poor immigrant parents, works his way through college, law school and the inner machinery of local politics, all the way up to the highest political office in San Francisco. The unmistakable "American Dream" portrait that began with a poor family exchanging old shoes as gifts and wound up at the highest rank of an internationally recognized city is the very model on which so many of this country's ideals rest. As I sat in the rotunda next to my 85-year-old grandmother, who raised six children as a garment worker, it was hard not to witness this seemingly sudden shift through generations without a sense of incredulity.
As Brianna tells me, "In short, my dad is pretty awesome." I believe it. Here's another great article that expands on some of the community organizing and activism Ed Lee and his colleagues were involved in, going back more than three decades:
Asians' Political Ascent Brings Lee to Mayoralty
.