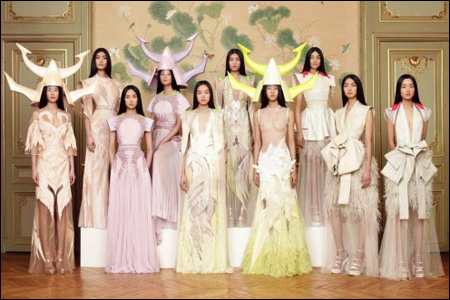 This week in Paris, Givenchy's Riccardo Tisci introduced his Japanese-influenced Spring/Summer 2011 Haute Couture collection -- using exclusively Asian models:
Givenchy Uses Only Asian Models At Haute Couture Show
.
According to Givenchy's press release, the collection draws its primary inspiration from Japan, including Butoh dancers, cranes, and even Gundam fighters. Lots more photos from collection over at
Huffington Post
.
Maybe it's just me, but those hats kind of remind me of Galactus, the planet devourer. Comic book geeks, are you with me? (Thanks, Tamlyn.)