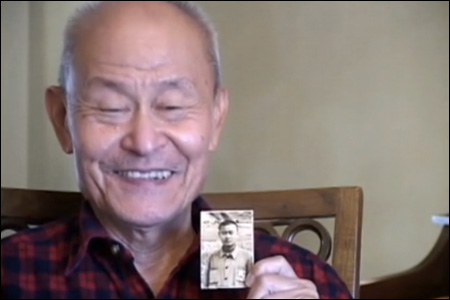 I recently heard from some of the people working on the upcoming documentary
Every Day Is a Holiday
. Directed by Theresa Loong, the film tells the extraordinary story of her own father's journey from his native Malaysia to a World War II Japanese War Camp, and finally into the United States.
The project is currently in need of completion funds and is raising money through a
Kickstarter
campaign. Here's some more information about the film:
Recently, my dad showed me a secret diary he kept while he was a prisoner of war in Japan during WWII. I was shocked. Also excited, and touched. Why show me? Why now? Why were there some pages missing? It was like a window into his nineteen-year-old mind, into his soul. Are we really that similar? No. I try, I try very hard - to emulate his kindness, generosity and tenacity. Life to him is pretty black and white. Things just are. This resoluteness, this assuredness - I don't have that at all. Life to me is all shades of grey, of maybes and possibilities.

My father's diary is so different from my own journal entries at that age - I am by turns whiny, wistful, melancholy. He didn't have that luxury. He put one foot in front of the other. Large goals; big dreams. Freedom.

I read the old, carefully penned pages, and start to daydream and ask questions. It starts to make sense, why every day as a free man is a holiday. What ceases to amaze me is that as much as he wants to tell me stories from his past, he is still very much part of the present.

He won't be around forever, which is why this unique look into a family - an American family with international ties - is timely and important. Please help me finish making this film, EVERY DAY IS A HOLIDAY.
The Independent Television Service has greenlit the film and will provide $79,000 towards the completion of
Every Day Is a Holiday
if
the producers can come up with $34,496. Right now, they're trying to reach a goal of $8,000 from generous people like yourself. To learn more about the project, go to the film's website
here
and to contribute to
Every Day Is a Holiday
, go to Kickstarter
here
.