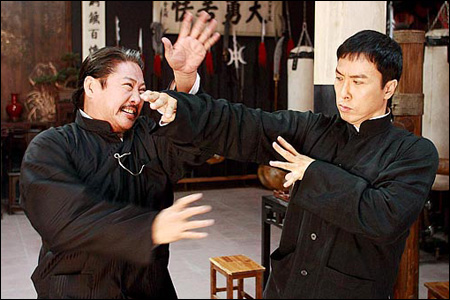 Who's more badass than Bruce Lee? Perhaps... the guy who taught Bruce Lee? The
New York Times
has a cool article on "the most popular kung fu screen hero of the moment," Wing Chun grandmaster Ip Man -- mentor to none other than Bruce Lee, and the subject of several recent martial arts dramas:
Enter the Teacher to the Dragon of Martial Arts Films
.
There's Wilson Yip's kickass kung fu flick
Ip Man
, starring Donnie Yen in the title role, and its sequel
Ip Man 2
, which opens Friday in New York and Los Angeles. But there's also Herman Yau's younger Ip Man biopic
The Legend is Born - Ip Man
, and auteur Wong Kar-wai's long-awaited
The Grandmasters
:
Born in the southern Chinese city Foshan, Ip Man (1893-1972) settled in Hong Kong after the Communist takeover of 1949 and devoted his life to the practice and popularization of the Wing Chun fighting style, known for its explosive, close-range strikes. Until recently his cinematic afterlife has been confined to brief appearances in films about his most famous student, but a growing wave of Ip Man movies has elevated him to a folk hero in his own right.

First came Wilson Yip's "Ip Man" (2008), a biopic set in the 1930s, before and during the Japanese occupation, with the action star Donnie Yen in the title role. (A big hit in Asia, it received a brief theatrical run in the United States last year.) Mr. Yen and Mr. Yip reteamed - along with the illustrious fight choreographer Sammo Hung - for "Ip Man 2," which covers its hero's years in 1950s Hong Kong, as he contends with rival instructors and thuggish British colonialists. The top-grossing local film in Hong Kong last year, "Ip Man 2," opens Friday in New York and Los Angeles.

Rushed into production on the heels of the first "Ip Man," "The Legend Is Born - Ip Man," directed by Herman Yau, is a prequel of sorts, focused on a teenage Ip. The filmmakers behind "Ip Man" and "Ip Man 2," in taking on bite-size portions of their protagonist's life, are leaving themselves open to a continuing franchise.

And Wong Kar-wai, perhaps the most revered and singular of Hong Kong auteurs, is finally shooting the Ip Man project that he has been developing for years. Titled "The Grandmasters" and featuring Mr. Wong's regular collaborator Tony Leung in the lead role, it remains, as tends to be the case with Mr. Wong, shrouded in secrecy. (The fights are being choreographed by Yuen Wo-ping, known for his work on the "Matrix" trilogy and "Crouching Tiger, Hidden Dragon.")
I'm most excited about Wong Kar-wai's arty take on the Ip Man story. Granted, while Ip Man was a real guy, and an accomplished martial artist, it's likely that these films all play pretty fast and loose with the autobiographical details of his life. He's become a folk hero, true facts be damned. I can't complain when the movies are just that badass. For more on
Ip Man 2
, go to the U.S. website
here
.