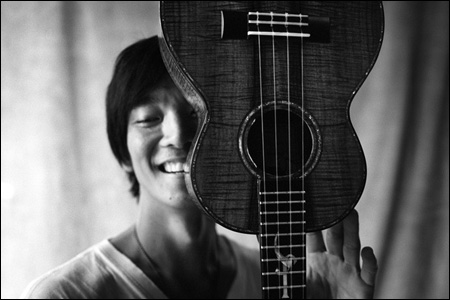 Hawaiian ukulele virtuoso Jake Shimabukuro was recently featured on NPR's Song of the Day, for his amazing rendition of Queen's quasi-operatic, hard-rocking power ballad "Bohemian Rhapsody":
Jake Shimabukuro: 'Bohemian Rhapsody' On The Ukulele
.
Of course, this wordless ukulele rendition differs from the version permanently carved into the brains of Queen fans, Wayne's World devotees and American Idol viewers. No one confesses to his mama that he killed a man. Thunderbolts are never invoked, nor is Galileo's name. Instead of a muscular guitar, pounding piano and an apparent cast of thousands singing backup, the four strings (and two octaves) of the ukulele do all the work.

A standout on Shimabukuro's new album Peace Love Ukulele, "Bohemian Rhapsody" functions as more than a mere gimmick. On an instrument whose name comes from the Hawaiian words for "leaping flea," the familiar melody rises and falls; the pace slows, then picks up. Deftly executed baroque arpeggios glimmer. The thin upper register sounds like a brokenhearted plea for love. The strumming is joyful and relaxing, infusing what was once larger than life with a moment of tropical island Zen.
Not necessarily the first rock cover you'd associate the ukulele, but as with almost everything he does, Jake makes it his own. The track is included on his latest album
Peace Love Ukulele
. For more from Jake Shimabukuro, visit his website
here
.