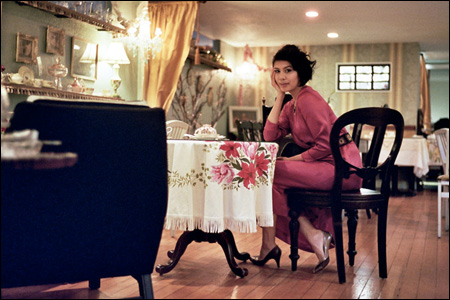 I recently heard from Julia Rhee, one of the co-founders of
Retrofit Republic
, an online "sustainable vintage store with a social impact." It's just starting out, but a portion of the store's sales will be donated to organizations that serve a social/environmental mission for underrepresented communities. Very cool stuff. Their new 2011 spring look book just launched
here
.
If you're in the Bay Area, you're invited to join Retrofit Republic at their first trunk show and video look book launch party. It's happening this Friday, January 28 at Somar Bar & Lounge in Oakland. Here are some more details:
Retrofit Republic Trunk Sale + Video Look Book Launch Party

Friday, January 28
6:00pm - 9:00pm

Somar Bar & Lounge
1727 Telegraph Ave (between 17th St & 18th St)
Oakland, CA 94612 (one block from 19th Street Bart Station)


Join us for the 1st trunk sale of the season and the world premiere of our Spring 2011 Video Look Book:

"The Cues and Mishaps of Social Interaction"
Directed by Ryan Michael Louie, Triptych Productions

...A look book is a visual portfolio of the style aesthetic and fashion collection of a brand.

In the spirit of innovation, we've joined up with Ryan Michael Louie and Triptych Productions for our first video look book in addition to our photo look book, debuting early next week.

What to expect at the event:

- Retrofit Republic vintage apparel and accessories for men and women
- Drink specials
- Fresh music spun by Somar's in house DJ
- Free giveaways/prizes
- Good looking and ridiculously talented people
- Free entrance

Come out and support local businesses in the Bay Area committed to building community, stunning style, and unforgettable times.

See you there,
Genevieve, Julia & Jenny
Good times! Props to this API women-powered operation for putting something together that's both stylish and sustainable. I dig it! To see the Spring 2011 Look Book, go to Retrofit Republic's website
here
. And for further information about the launch party, go to the Facebook event page
here
.