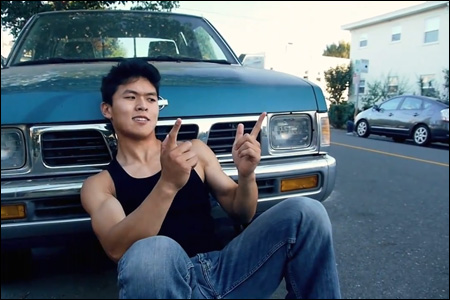 Looks like somebody's been playing too many video games... Tiger Mother would not approve. Check out
Ode to Action
, a fun little visual effects short directed by James Chen and starring Shahaub Roudbari and Kenny Leu. I'm told that they made it as an homage to their favorite video games and action movies growing up. See how many references you recognize:
True, it's largely reminiscent of Ross Ching's
3 Minutes
and Danny Pudi's Interpretations short
Blow Out Sale
, from which it draws inspiration. It's essentially the same concept, with the ridiculous imaginary arsenal getting more and more outlandish.
With most of the film shot in public -- on the street, in the park -- it just occurred to me that two grown men vigorously firing invisible pantomime weapons at each other must have been a pretty funny sight. Ha. For more from Thinking Stone productions, go
here
.