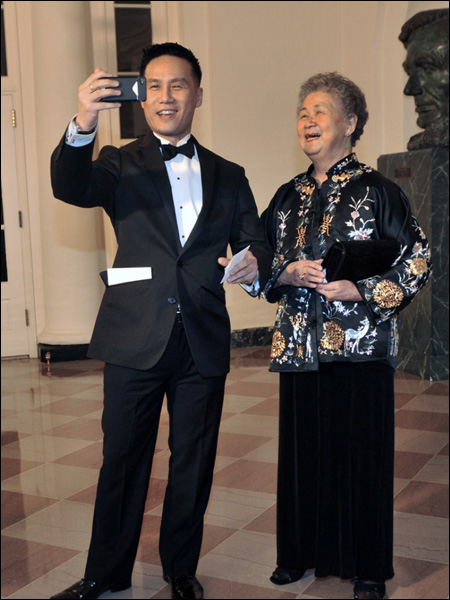 In case you weren't one of the 225 esteemed and glamorous guests invited to attend Wednesday night's state dinner at the White House in honor of Chinese president Hu Jintao, here's a list of who you missed rubbing elbows with, according to the
Washington Post
:
Guest list for the Chinese state dinner
.
Guests included the usual Obama administration personalities but also Jackie Chan, Michelle Kwan, Maya Lin, Vera Wang, former labor secretary Elaine Chao, congresswoman Judy Chu, commerce secretary Gary Locke, energy secretary Steven Chu, Oakland mayor Jean Quan, San Francisco mayor Edwin M. Lee, and of course, Yo Yo Ma.
Because you know it just ain't a proper party unless Yo Yo Ma shows up.
Here's my favorite part. Lots of important dignitaries and contributors, but actually got to sit at the Presidents' table? According to the
seating chart
, the table included Bill and Hillary Clinton, Jimmy and Rosalynn Carter, Richard Daley, Jeff Immelt, Muhtar Kent... and actor B.D. Wong.
So you've got former presidents, senators, Chinese dignitaries, the mayor of Chicago, CEOs of multinational conglomerates, and the guy who plays Dr. Huang on
Law & Order: SVU
?
Awesome
. And the best part is, B.D. brought his mom to the dinner. That's the photo above. I love it. More photos from the state dinner
here
.