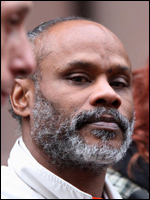 Some news out of Toronto... This week, Anthony Bennett, now pretty much notorious as Chinatown's most infamous shoplifter, was sentenced to four months in prison for stealing a plant in October 2009. He was also banned from Chinatown and Kensington Market for three years:
Shoplifter banned 3 years from Chinatown, Kensington Market
.
Bennett first gained notoriety after he was captured and subdued in a
citizen's arrest case
involving Chinatown grocer David Chen in 2009. Chen, who apprehended Bennett, was arrested for assault and forcible confinement, but was later
acquitted
. Monday's sentence was a for a separate case:
The judge noted that Bennett was on probation at the time of the offence, and that given his lengthy criminal record - "he has a criminal record that goes back to 1976 and 54 convictions" - a four-month jail term was appropriate.

She also noted that, in the victim impact statement read to the court, the woman working alone in the store where Bennett had stolen the plant said she was "fearful of him" and that at one point Bennett had tried to hit her with his bike.

Justice Chapin said that, although Bennett, who has a 20-year addiction to crack cocaine, has been "doing well in the last six months . . . and attending Narcotics Anonymous" meetings, he must be made aware that there are "consequences of this type of behaviour."
I bet the merchants of Chinatown and Kensington Market are breathing a sigh of relief. Bennett's just one guy, but he sounds like he was a pain in the ass. After repeat encounters, you can hardly blame David Chen for getting fed up and taking matters into his own hands. More here:
Toronto Chinatown thief jailed 4 months
.