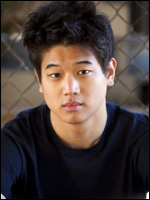 Some television news... Just heard the word that ABC Family has picked up the hourlong drama
The Nine Lives of Chloe King
, based on the popular book series by Celia Thomson. This is noteworthy because actor
Ki Hong Lee
is included in the cast as "Paul":
ABC Family Greenlights Three Series
.
The show follows a teenager as she develops special abilities and finds out that a mysterious figure is pursuing her. She soon learns that she's part of an ancient race that's being hunted by human assassins. Here's the show's official description according ABC Family:
In the one-hour scripted drama The Nine Lives of Chloe King, Chloe King is looking forward to celebrating her birthday with her friends and single mother, just like every other year…that is until she starts developing heightened abilities and discovers she's being pursued by a mysterious figure. Chloe soon learns she's part of an ancient race which has been hunted by human assassins for millennia —and that she may be their only hope for ultimate survival.
I haven't read the books, but from what I've heard, Paul is one of Chloe's closest friends. Ki Hong Lee has had a handful of recent of minor credits on shows like
The Secret Life of the American Teenager
and
Modern Family
.
According to
The Hollywood Reporter
, the series has received a nine-episode order in addition to the pilot, and will premiere later this year. Here's a little information on the ABC Family website:
The Nine Lives of Chloe King: Coming to ABC Family!