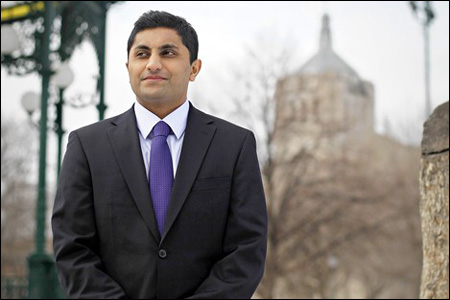 Some cool political news out of Chicago... This week, in something of a surprise victory, voters on the Northwest Side helped make history and elected 30-year-old Ameya Pawar as the city's first Asian American alderman:
In 47th Ward, a long-shot outsider relishes his victory
.
Pawar, the son of Indian immigrants, entered the race last year as a long-shot outsider against 35-year-old incumbent Eugene Schulter. As a relative unknown, with considerably less campaign money than his opponents, his chances of winning were slim. But things turned when Schulter unexpectedly dropped out of the race:
Pawar's campaign got a jolt of energy when Schulter unexpectedly dropped out of the race in January, according to campaign manager Sam Yanover. The campaign had raised less than $5,000, but the budget jumped to about $40,000 as people got to know Pawar and his candidacy gained credibility.

He still faced three opponents, including Schulter's ally Tom O'Donnell. But the bigger budget allowed the Pawar campaign to organize direct mailings and coordinate automated calls to ward residents. Pawar and his allies also organized online through Facebook and Twitter.

In the end, it was enough. Pawar got 50.8 percent of the vote, avoiding a runoff, to O'Donnell's 43.5 percent. When he takes his seat this spring, it is believed he will be the first alderman of Indian descent.
Sometimes long shots come through. In the end, Pawar used his resources more effectively to beat a better-known and better-funded candidate. It's a surprise win, but the Asian American community will take it. Welcome to the City Council. More here:
City's first Asian American alderman glad to have 'seat at the table.'