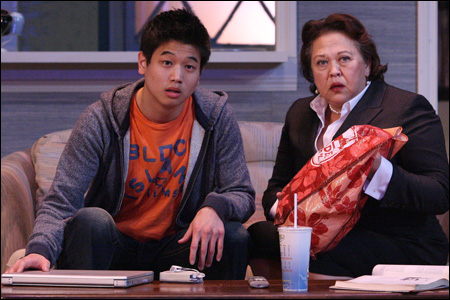 Hey, everybody. Time for another
Angry Reader of the Week
, spotlighting you, the very special readers of this website. Over the years, I've been able to connect with a lot of cool folks, and this is a way of showing some appreciation and attention to the people who help make this blog what it is. This week's Angry Reader is actor Ki Hong Lee, who can currently be seen in East West Players'
Wrinkles
.
Who are you?
Hi, my name is Ki Hong Lee
What are you?
I'm a Korean American. Sometimes I'm a waiter, manager, host, cook, and slave at my parents' restaurant. I am also an actor.
Where are you?
I'm at my family restaurant in Little Tokyo (Tofu Village). Don't worry I'm not slacking, it's just slow right now since it's kind of a hot day. Who wants to eat SoonTofu on a hot day?
Where are you from?
I was originally born in Seoul, South Korea. Then when I was about 6 years old my parents moved the family to Auckland, New Zealand. Sadly, I did not pick up a sexy accent, but I did learn to spell "mom", "mum". The spelling I learned in New Zealand didn't sit well with my teachers when I moved to Los Angeles when I was about 8. So, I've grown up in Southern California for most of my life except when I went up north for college at UC Berkeley. Go Bears!
What do you do?
When I'm not selling tofu stew, I act. Currently, I'm acting in a play called
WRINKLES
. It's being performed at
East West Players
. Although it's on a racy, sexy topic, it's a fun, family-friendly show. It also features some veteran actors such as Sab Shimono, Amy Hill, and Elizabeth Ho. It's been a blast to work with such a talented cast and an honor to work with such a creative writer, Paul Kikuchi, and a brilliant director, Jeff Liu. You can also check me out in a new show called
NINE LIVES OF CHLOE KING
coming soon to ABC Family.
What are you all about?
I'm all about following one's dreams. It took me a while to realize I wanted to pursue acting, but I'm extremely glad that I gave it a chance. It's not easy -- you need an incredible support system which includes not only family and friends but also perseverance, hard work, determination, and a whole lotta luck. Also, living with your parents to save money doesn't hurt. I actually heard a lot of cool people do it now.
I'm also about fighting against injustice. At school, I was part of a college chapter of
LiNK
(Liberty in North Korea), and I also interned at the LiNK headquarters for a while. They do some really awesome work to spread awareness for North Korean Human Rights. A buddy of mine is on a cross country tour with the
Nomads
. They go around holding documentary screenings about the current human rights crisis. Go check it out, better yet, get involved. There's so much we need to do to make this world a better place.
What makes you angry?
L.A. Traffic
People that complain (especially in a restaurant)
Being sick
Whitewashing of movies where the cast should be Asian (i.e.
The Last Airbender
)
Did I mention L.A. Traffic?