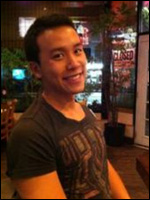 Oh man. Some terrible, heartbreaking news out of Southern California... The body of 23-year-old college student Alan Sun-Long Lin, who had been
reported missing since February 5
, was found floating in Newport Bay early this morning.
Officers responded to a call from a passerby about a body in the bay near Bluewater Grill at 7:16 am. The body was identified as Lin's through fingerprints. Authorities have not yet determined how he died, or how ended up in the water:
Body found floating in Newport Bay is ID'd
.
The body of Alan Song-Long Lin was discovered at 7:16 a.m. floating in the bay near BlueWater Grill, said Newport Beach Police Sgt. Doug Jones.

Detectives and the Coroner's Department are investigating and have not yet released details about Lin and what may have caused his death.

Lin was a mechanical engineering student at UC Riverside. Family members said he was last seen around 1 a.m. on Feb. 5 at Rudy's Pub and Grill in Newport Beach.

Lin lived with three roommates in Riverside during the week and would stay with his family in Irvine on the weekends. Lin's family got worried when he didn't come home and failed to show up for school or work on Feb. 7.
An autopsy is scheduled for later in the week. Police request that anyone with information about Lin call 800-550-NBPD. Tips can be left anonymously. More here:
Body Found in Bay ID'd as Missing Irvine Man
.
My deepest condolences go to Alan's family and loved ones.