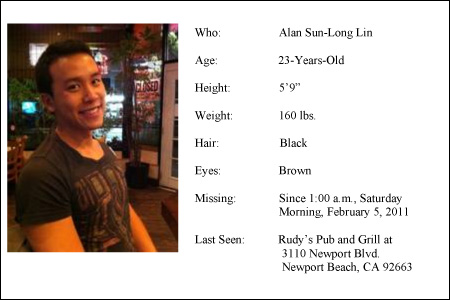 Trying to help spread the word about this... I recently got a message passed along to me from the family of 23-year-old Alan Lin, who has been missing since last week. He was last seen early Saturday morning, February 5, around 1:00am, in front Rudy's Pub & Grill in Newport Beach, California. Alan's family and friends are obviously worried, and are asking for any information that could be of help finding him:
Newport Beach Police is investigating the disappearance of 23-year-old, Alan Sun-Long Lin, who was last seen at Rudy's Pub and Grill in Newport Beach last Saturday morning around 1:00 a.m., February 5th, wearing dark jeans, black shirt and a tan blazer. Alan has black hair, brown eyes and a small mole on his left cheek. He is 5'9" tall and weighs 160 lbs. Alan is a resident of Irvine and also resides temporarily in Riverside, as a full-time student and Graduating Senior at the University California Riverside in the field of Mechanical Engineering. Alan also works part-time for an engineering firm in Irvine. Family members became concerned when Alan did not come home for the weekend, and then did not appear for class or report to work on Monday.

Please contact Detective Scott Smith at (949) 644-3762 of the Newport Police
Department with any information, which may be of assistance in locating Alan's
whereabouts.
Anyone with information is asked to call Detective Scott Smith of the Newport Police Department at 949-644-3762. For more information, email HelpFindAlan@gmail.com, or go to this Facebook page:
MY BROTHER ALAN IS MISSING!!!!!
UPDATE: Terrible, awful news. Authorities have identified Alan Lin's body:
body of missing college student found in newport bay
.