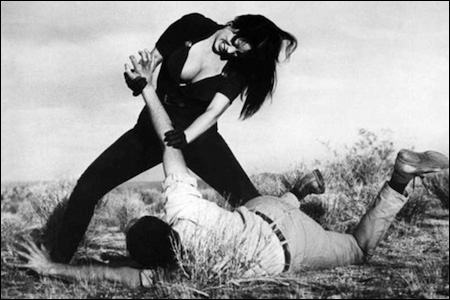 Actress Tura Satana, aka Tura Luna Pascual Yamaguchi, best known for kicking ass and rocking some gravity-defying cleavage in director Russ Meyer's 1965 cult exploitation classic
Faster, Pussycat! Kill! Kill!
, died last week in Reno, Nevada. She was 72:
Tura Satana, Cult Actress, Dies
.
Born to a father of Japanese and Filipino descent and a mother who was Cheyenne Indian and Scots-Irish, Ms. Satana spent part of her childhood in the Manzanar internment camp. Starting off as an exotic dancer and nude model, she later pursued an acting career and got her big break as the badass Varla in
Faster, Pussycat! Kill! Kill!
Her breakthrough role came in "Faster, Pussycat! Kill! Kill!", a Meyer exploitation film that, in stark opposition to the director's later works, featured no nudity. In that film, Ms. Satana played Varla, the leader of a gang of go-go dancers who kidnap a couple, murder the boyfriend and force the girlfriend to follow them on further lawless adventures.

Ms. Satana's portrayal of Varla as a brazenly violent but unapologetically feminine woman who frequently upbraids the men who dare to ogle her — when a gas-station attendant tells her he believes in "seeing America first," Varla replies, "You won't find it down there, Columbus!" — earned her a cult following that endured long after the drive-in era. In later decades, the influence of Ms. Satana's no-nonsense attitude could be seen in pop-cultural artifacts ranging from "Xena, Warrior Princess" to Quentin Tarantino's "Kill Bill" movies.
While I've heard lots about it, I've never actually seen
Faster, Pussycat! Kill! Kill!
But that image above, of Tura Satana (and that glorious plunging neckline) beating that guy's ass, is downright iconic. Now I want to
watch it
. Rest in peace, Tura Satana. More here:
Tura Satana dies at 72; actress starred in 'Faster, Pussycat! Kill! Kill!'