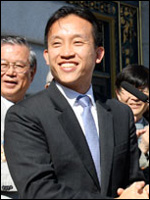 This morning in San Francisco, Board of Supervisors President David Chiu officially
announced
that he's running for mayor. Chiu made the announcement on the steps outside City Hall, where more than a hundred supporters were gathered, and then headed to the clerk's office to file his declaration of intent to run.
If he's already previously announced that he's going announce it, is it really a true announcement? Whatever. I guess this makes it official. Chiu now joins an already-crowded field of major candidates making run for San Francisco's mayor:
Chiu announces run for mayor
. The announcement had been anticipated for a while:
Chiu has been considering the move since at least the start of this year, when he played kingmaker as the swing vote to name Ed Lee as interim mayor, parting from his progressive colleagues to do so. With no strong progressive candidate yet in the mayor's race, the question now is whether Chiu will try to win over the left and if he can be successful in doing so after making several more moderate moves in recent years.

Chiu's initial political base will be allies of Chinatown Chamber of Commerce boss Rose Pak, who has pledged to block Sen. Leland Yee from becoming mayor, is close to Chiu, and has been courting someone to run. There have even been widespread rumors recently that Pak and ally Willie Brown have been trying to convince Lee to run, a possibility that those in Chiu's camp dismiss.
Prior to becoming supervisor Chiu, worked as a San Francisco prosecutor and as a staff attorney for the Lawyers' Committee for Civil Rights. He also co-founded and managed a small company that helps nonprofits and political groups organize and deliver their message online.
For more information about San Francisco mayoral candidate David Chiu, you can visit his campaign website
here
and his Facebook page
here
.