Gerald Ung claimed self-defense after shooting a man six times during a street altercation.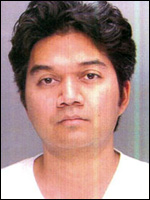 In Philadelphia, an update on the case of Gerald Ung, the Temple University law student who
shot a man six times
during a late night street altercation last year... Yesterday, a jury found him not guilty in the shooting of Edward DiDonato Jr.
Temple student not guilty in Old City shooting
.
Ung, who was charged with attempted murder, aggravated assault and possession of an instrument of crime, testified that he shot DiDonato in self-defense after being followed, threatened and lunged at by DiDonato and three of his friends. Looks like the jury agreed:
"Back the f--- up!" Temple Law student Ung, 29, said he shouted while pointing his legally registered handgun at Eddie DiDonato, 24. DiDonato and three male friends had been arguing with and following Ung and his two friends on Market Street near 4th.

"And he said, 'Who you gonna shoot?' " Ung said, recalling the words of DiDonato, a recent Villanova University graduate.

"I tried to kick him away," Ung said, tearing up during questioning by his attorney, Jack McMahon.

"Did you shoot him first?" McMahon asked.

"No, I tried to kick him away first," said Ung, who lost his right boot and his balance when DiDonato grabbed his leg.

While falling to the sidewalk in front of the Fox29 television studios, Ung said, he saw sparks fly from his gun.

"He attacked me, I had to shoot him - 4th and Market," Ung shouted frantically to a 9-1-1 dispatcher whom he called on his cell phone immediately after the shooting.

More here:
Temple Law student tells jury why he shot another man
.
Like I've said before, I just can't condone gun violence, even if Ung was legally registered to carry his. That said, I'm glad the case shook down like this, though honestly, there are no real winners.
The more details that emerged about the incident, the more it became evident that DiDonato is a drunken meathead bully -- at least, he was on that night when he got into it with Ung. And doesn't there always seem to be a drunken meathead bully rounding out the equation in these situations?
More here:
Commonwealth v. Ung: A Morning-After Linkwrap
.