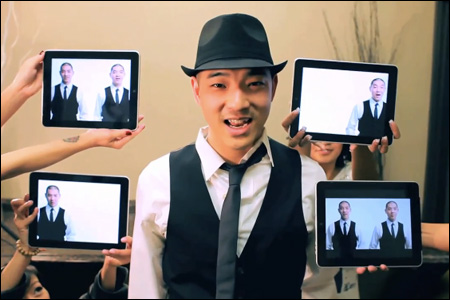 You must check out this
amazing
video of my man
Dawen
doing an acapella cover of Bruno Mars'
"Just The Way You Are."
I know this song has been covered to death, but Dawen takes it to the next level by not only performing all the vocal parts, but also shooting this insane one-take, screen-tastic extravaganza. You have to see it for yourself:
Epic fun. Directed by Nicholas Acosta, produced by George Wang and shot by Nathaniel Fu, the feat of coordination alone is pretty darn impressive. I'm told it took two days, not including prep, and was indeed shot in one continuous take with four iPads, three Macbooks and an iTouch. Great work!
Not only is Dawen enormously talented, he's one of the nicest guys I know. For more information about Dawen and his music, check out his official website
here
, his Facebook page
here
, and subscribe his YouTube channel
here
. And do check out his debut album
American Me
.