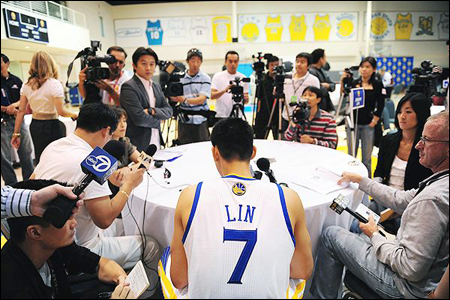 Here's a good ESPN article on Jeremy's incredible roller-coaster journey -- "the NBA's Cinderella story of the offseason" -- from the Harvard Crimson to the Golden State Warriors. It's safe to say that he's received more media attention than your average NBA rookie:
Jeremy Lin: NBA's Cinderella story
.
Here's also a recent CNN interview with Jeremy Lin -- the only current NBA player who holds a Harvard degree -- who only recently stopped by the university to pick up his diploma:
Lin goes from Harvard to the NBA
. Is it me, or does it seem like T.J. Holmes has a bit of a man-crush on Jeremy?
I really like this kid. If only they'd give him some solid play time!