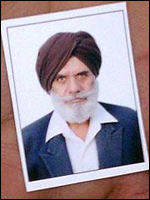 In Elk Grove, California, police are investigating an attack on two elderly Sikh men last week as a possible hate crime. 67-year-old Surinder Singh and his friend 78-year-old Gurmej Atwal were shot on East Stockton Boulevard during their daily afternoon walk:
Attack on two Sikh men seen as possible hate crime
.
A nearby driver spotted the bodies of the elderly men along the sidewalk and stopped to call the police. Surinder Singh was found dead. Gurmej Atwal, who was shot twice in the chest, is in critical but stable condition. Both men wore turbans and had beards in accordance with their Sikh faith.
In a statement released late Saturday, Elk Grove Police Chief Robert Lehner called on witnesses to come forward and said, "We have no evidence to indicate there was a hate or bias motivation for this crime; however, the obvious Sikh appearance of the men, including the traditional Dastar headwear and lack of any other apparent motive, increasingly raise that possibility."

Lehner also said he had "made preliminary notification" to the local FBI office.

Relatives and friends in the tightknit Sikh community to which the two men belong were not as hesitant to call the shooting a hate crime.

Singh and Atwal, like many Sikh men, had thick beards and wore turbans – traditions that have made Sikhs the target of bigotry and violent attacks since the Sept. 11, 2001, terrorist attacks.
The Sikh American community of Sacramento, Stockton and Yuba City, along with SALDEF, are offering a $10,000 reward for information on the crime. Additionally, the Elk Grove Police Department has issued a $1,000 reward and the Sacramento Valley chapter of the Council on American-Islamic Relations has offered a $5,000 reward for information related to the attacks.
Anyone with information about the shooting is urged to call the Elk Grove Police Department Communication Center at (916) 714-5115 or Crime Alert at (916) 443-HELP (4357). More here:
Elk Grove shooting investigated as possible hate crime; Muslim organization offers reward
.
UPDATE: The reward for information leading to the arrest and conviction of those responsible for the shooting of Surinder Singh and Gurmej Atwal is now more than $42,000:
Reward in Elk Grove Sikh's homicide rises to $42,000
.