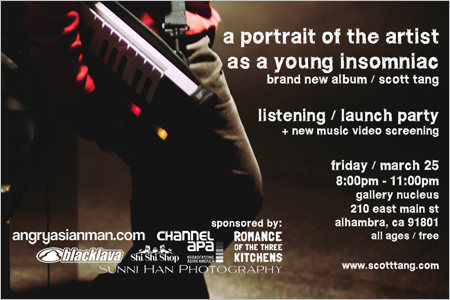 If you're hanging around Southern California this Friday, then you're invited to Listening and Launch Party for singer/songwriter Scott Tang's long-awaited new album
A Portrait Of The Artist As A Young Insomniac
. The evening will include will be food, art, videos, vintage clothing and, of course, music. It's happening March 25 at Gallery Nucleus in Alhambra. Here are some more details:
Scott Tang - New Album Listening / Launch Party

Listening & Launch Party for Scott Tang's New Album, "A Portrait Of The Artist As A Young Insomniac"

Friday, March 25
8:00pm - 11:00pm

Gallery Nucleus
210 East Main Street
Alhambra, CA

All ages, free

In addition to listening to the new album in its entirety, there will be:

-A screening of the new music video, "At This Hour"
-Free raffle giveaways of the CD
-Food from the hosts of the cooking webseries "Romance Of The Three Kitchens"
-Vintage clothing from Vietnamese pop singer Trish Trang's new store
This blog is a proud sponsor of this event. Not only does Scott make sweet, melodious music, he's a super nice guy on top of that. For more information on Scott Tang, go to his website
here
. For further information about Friday's listening/launch party, go to the Facebook event page
here
.