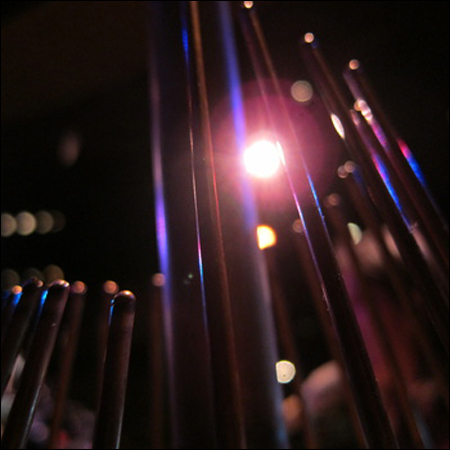 Singer/songwriters Vienna Teng and Alex Wong have recorded a new song,
"The Breaking Light,"
-- recorded live at the legendary Yoshi's Jazz Club in Oakland -- and are offering it to fans as a digital download for a minimum $5 donation to help Japan. 100% of proceeds from the song will go to earthquake/tsunami relief. Here's a preview of the song:
Some background on how the track came together, according to Vienna:
At the beginning of the month, Alex and I wrote a little song using his waterphone, a wineglass and a whiskey bottle, called "The Breaking Light." The lyrics were written in a mad rush just before going onstage in Brooklyn, so we were navigating entirely by feel—one of those songs where the conscious mind isn't sure what it's about, but something tugs as the words go by, sung out loud.

Then we landed in L.A. a few weeks ago to sobering headlines: aftershocks, spent fuel rods, crowded floors without heat. "We should do something," Alex said. "How about we record the new song as a benefit single?" And with help from sound engineer Jamie and the gorgeous audience at Yoshi's Oakland, faithful taper/webmistress Michele Santiago, and the wonderful Eddie Jackson in the mixing studio, it's now on Alex's Bandcamp site for download.
Again, you can get the download for a minimum donation of $5, but you're encouraged to give as much as you want. All proceeds will benefit
Direct Relief International
. Get the track from Alex Wong's Bandcamp page
here
. And for more from Vienna Teng, check out her official website
here
.