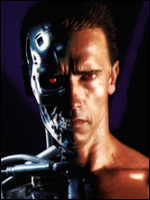 He will be back. Before his recent stint as the governor of California, Arnold Schwarzenegger was once the biggest movie star in the world. And according to Deadline.com, he is attached to star in the latest iteration of
Terminator
, reprising the signature role that pretty much defined his film career.
To top it all off,
rumors
continue to persist that
Fast Five
director Justin Lin, who has a lot of heat right now, is attached to take the reins of Universal's reboot of the iconic franchise -- if they first get over the property's financial hurdles:
'Terminator' Back With Arnold To Star: Schwarzenegger In Package Shopping Now; 'Fast Five's Justin Lin To Direct
.
Much like the Superman property, The Terminator has a ticking clock on the rights. There is a stipulation in copyright law that if you assign your rights, you get them back in 35 years. In this case, Cameron assigned his rights to Hemdale, and the North American rights will revert back to him in 2018. Now, Cameron has more or less washed his hands of the Terminator franchise, but I'm told a new deal would have to be made with him if the plan was to keep making Terminator installments beyond that period. There is plenty of time to make at least two Terminator films before that happens, and that might be sufficient to end the saga that so far has spanned four films. Any financier that makes those films owns them free and clear. Rumor is the project price tag is at least $25 million upfront, against a purchase price near $36 million, not including paydays for Schwarzenegger or Lin. It would stand to reason because of the amount Pacificor paid in 2010 and the interest it has carried since. I'm told there is no set price, but this will likely be a whopping sale by the time the dust has settled and the bidding is complete.
Justin Lin is largely credited with turning around the
Fast & Furious
franchise into one of Universal's most bankable properties. With the fifth movie pretty much ready to destroy the box office any minute now, he's definitely got his pick of projects to do next.
Terminator
would be huge. Let's just see if all the numbers come together and everything falls into the place.
Honestly, I am in no hurry to see any more
Terminator
movies, and would be perfectly content to see this series put to rest for a long while. That last movie kind of ran it into the ground, and I'm not sure anyone's going to be lining up to see Arnold anymore. But if this is really going to happen, I'm happy as hell for Justin.