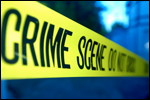 Damn. In San Francisco, four teenage boys have been arrested and fifth is being sought in the death of 16-year-old Andy Zeng, as well as an alleged arson plot -- presumably in an attempt to destroy evidence of the murder:
4 teens held, 1 sought in S.F. boy's killing
.
Zeng was reportedly killed early Sunday, and the first floor of the two-story duplex where he died had been soaked in gasoline. The suspects, who range from ages 15 to 17, are being held on suspicion of attempted arson and conspiracy, while one of them is also facing a murder charge:
Zeng, a sophomore at Thurgood Marshall Academic High School, was found dead in the white bungalow on the 2100 block of Quesada Avenue by the house's owner at 4:30 a.m. Sunday, police and neighbors said. The cause of death was not released.

The boy did not live in the home, investigators said.

Officers arrested four teenage boys in connection with the case, and a fifth boy is being sought. One of the suspects, a 15-year-old, is held on suspicion of murder, attempted arson and conspiracy, said police Lt. Troy Dangerfield.

The three other suspects, ages 15, 16 and 17, were each arrested on suspicion of attempted arson and conspiracy. Their names were not released because they are minors.
Police aren't discussing the details of the murder or a possible motive, but whatever the case, it's pretty damn disturbing. What the hell happened here? More here:
Andy Zeng, 16, Found Dead Inside Home; Homicide No. 20
.