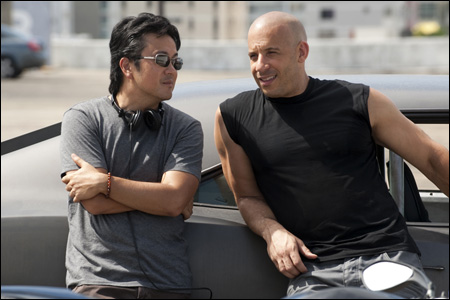 I had a pretty good weekend. But you know who had a
great
weekend? Our friend Justin Lin, director of
Fast Five
, which made about seven truckloads of money at the box office:
'Fast Five' races to furious start with $83.6M
.
The fifth movie in the
Fast
franchise made a record-setting $83.6 million -- the biggest opening of the year thus far, the biggest April debut ever, and Universal Pictures' biggest opening of all time. Like I said, truckloads of money.
I think it's safe to say that the summer movie season has started early. And I'm willing to bet that
Fast Five's
second weekend is going give Marvel's
Thor
, opening this Friday, the first weekend of May -- usually considered the official kickoff of the summer movie season -- a pretty strong run for its money.
And you can count on there being more
Fast and Furious
movies. When the
fifth
movie of a once-flagging franchise comes back as one of the studio's biggest brands, and makes this much cash, you can count on it.
Only question is, will Justin will be back to direct? The man is in high demand, and at this point, he's got any number of plumb projects to choose from. The future is bright. Congratulations, Justin Lin. P.S. Thanks for showing some love to the Asian man.
Han lives forever!
UPDATE: Like I said. There can be no doubt:
'Fast Five' Director on Sequel: 'It's Going to Happen.'