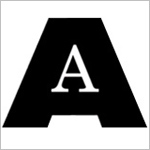 Here's a really cool job posting from the Asian American Writers' Workshop in New York... They're looking for a creative, motivated and highly ambitious individual to be
Managing Editor
, take the reins of the Workshop's new online magazine, and more importantly, help usher Asian American literary culture into the future. Here's some more information on the position:
OUR VISION. We are inventing the online Asian American literary culture of tomorrow. We're launching an online magazine that's as accessible as Slate, as cool as Bidoun, more thrilling than the average literary journal or progressive magazine. We'll feature some of the finest writers in America in a unique, provocative format designed to lure in people who don't think political or ethnic literature is meant for them. We've already assembled a dream team of advisors, put together an editorial guide, and mocked up a new design. We have a vision we want you to implement, but you'll need to bring some vision of your own too. We're interested in the thrilling undiscovered Asian American intellectual culture beyond Tiger Moms and Amy Tan. Think: avant-garde poets; Amar Chitra Katha; transnational adoption; multiracial identity; institutional roadblocks at publishing houses; nativist hysteria; global metropolises; gentrification in Chinatown; Korean dramas; Walt Whitman's secretary; post-9/11 detention; Hasan Elahi sending self-portraits to the FBI; the anniversary of the LA riots; Ai Wei Wei; the Philip K. Dick story where the Japanese conquer America. We're not interested in: too exclusive an emphasis on pop culture; diatribes about cliche topics; a focus on Asian heritage rather than contemporary Asian American culture. The main focus will be on managing the Workshop Magazine, which will include soliciting, writing, or editing at least two pieces a week (these may include reported features, blog posts, poems, fiction, user submissions, book and film reviews, writing contests). You'll also work with our staff to build content out from 1) the Workshop's general programs and fundraising campaigns; 2) Open City: Blogging Urban Change (http://www.openthcity.org): our anti-gentrification blogging initiative that sends writer-bloggers to gentrifying NYC neighborhoods to tell the story of speechless immigrants and connect readers with community groups and zoning debates; 3) Wordstrike (http://www.wordstrike.net): our online cultural campaign that seeks to humanize Arizona immigrants via user-submitted videos and op-eds against a xenophobic national discourse
It sounds like really awesome opportunity to help shape and push the Workshop website into a powerful online presence. This is a part-time position with benefits and the possibility of full-time. For more information about the job, including responsibilities, qualifications and how to apply, go
here
. For more information about the Asian American Writers' Workshop, go
here
.