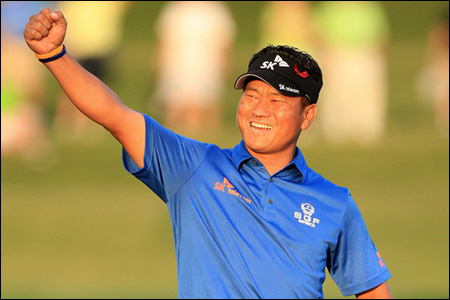 You know this is big news when my pops is making a point to tell me about it... Over the weekend in Florida, pro golfer K.J Choi won The Players Championship, the biggest event on the PGA Tour. He finished strong to beat out David Toms in a sudden-death playoff at the infamous 17th hole:
Choi outlasts Toms in a Players playoff
On a hole designed to provide great theater — the island-green 17th — the finish fell flat.

Both players hit the green in the playoff, and the advantage went to Toms with a shot that settled about 18 feet away. Choi lagged his long birdie putt about 3 feet by the hole, and Toms thought he had a winner with his 18-foot putt until it slid by the cup and rolled 3 1/2 feet by the cup. Into the grain, slightly uphill, he didn't strike it solidly and missed.

Choi tapped in his putt and pumped his fist, yet his heart felt for the 44-year-old Toms.

"As a fellow player, I felt very sorry for him," Choi said. "Because I know how that feels. And I felt bad for him."
Choi is the first Asian man to win the Players Championship, picking up the eighth win in his PGA Tour career and a $1.71 million prize. He also moved to No. 15 in the world and scored himself a spot on the Presidents Cub team. So yeah, K.J. had a pretty good day. More here:
The Tank marches to victory at The Players
.