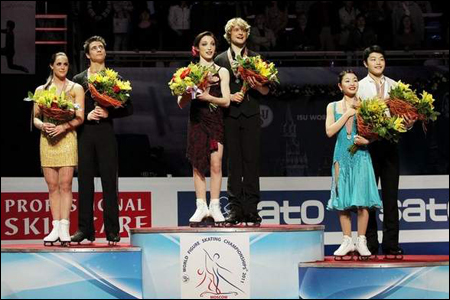 Just wanted to give some props to Maia and Alex Shibutani, the American brother-sister team who won the bronze medal in ice dance over the weekend at the World Figure Skating Championships in Moscow. Fellow Americans Meryl Davis and Charlie White took the gold, beating out Tessa Virtue and Scott Moir of Canada:
Davis-White win first U.S. dance title
.
The two teams — rivals on the ice, close friends off it — were joined on the podium by their Arctic FSC teammates, U.S. silver medalists Maia and Alex Shibutani, who captured the bronze medal in their debut at senior worlds. The Shibutani siblings — Maia is 16 and Alex just turned 20 — clinched the medal by 0.25 over fourth-place Nathalie Pechalat and Fabian Bourzat of France, who fell during their performance.

It was a remarkable sweep for the Canton group and the coaching crew led by Igor Shpilband and Marina Zoueva. But it was also a groundbreaking moment for ice dance in the U.S. and Canada: A year after winning gold and silver for the first time at the Vancouver Games, North American teams did one better at the world championships and captured all three medals.

The last time the U.S. had two teams on the podium was 1966 when it won the silver and bronze.
Pretty awesome, considering it was the Shibutani siblings' senior world debut. More here:
Meryl Davis, Charlie White make U.S. history at worlds as Canton teams sweep in ice dance
. Also, Miki Ando of Japan won the women's world title, beating out rival Kim Yuna of South Korea. And for reals, I think Japan could use a win right now.