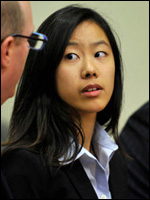 Last week, Molly Wei, the former Rutgers University student accused of using a webcam to watch classmate Tyler Clementi's sexual encounter with another man, appeared in court and struck a deal with prosecutors that will allow her to avoid criminal prosecutors:
Tyler Clementi Suicide: Ex-Rutgers Student, Molly Wei, Avoids Jail
.
Under the deal with the Middlesex County Prosecutor's Office, Wei pleaded not guilty to two counts of invasion of privacy, and entered the probationary program under a number of conditions, including required counseling and community service:
As part of the pretrial intervention, Wei must attend counseling in cyberbulling and in dealing with alternative and cultural differences. She must also complete 300 hours of community service and testify against Ravi.

If Wei completes the program without getting into any additional trouble, all charges will be dropped, the prosecutor's office said.
More here:
In Fallout of Suicide by Student, a Plea Deal
. Last month, Clementi's roommate Dharun Ravi was
indicted on fifteen counts
, including a count of bias intimidation. If convicted on a hate-crime charge, he could face 5 to 10 years in prison.
Molly Wei's attorney continues to insist that she's "not a bully," and simply a bystander in what happened. She can go on believing that all she wants. As I've said before, Dharun and Molly pretty much failed at being decent human beings the very moment they hatched their cruel idea.