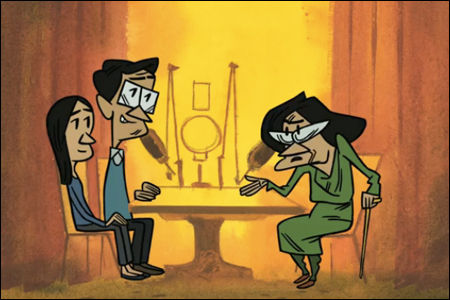 StoryCorps is an independent nonprofit organization whose mission is to record, share, and preserve the stories of everyday American lives. Here's a great animated re-telling of a story by 87-year-old Kay Wang, who recorded the audio in 2008 at a StoryCorps booth in New York City:
No More Questions!
Great stuff. Here's the description from StoryCorps:
Kay Wang was a strong-willed grandmother who was reluctantly taken to a StoryCorps booth by her son and granddaughter. Though Kay resisted, she still had stories to tell - from disobeying her mother and rebuffing suitors while growing up in China to late-life adventures as a detective for Bloomingdale's department store. Kay passed away just weeks after that interview, and her son and granddaughter returned to StoryCorps to remember her gentler side, which she kept to herself.
She sounds like she was an awesome, tough lady who lived a full life. Rest in peace, Kay Wang. Love these stories. For another good one, check out this piece that aired on NPR last year, featuring a Vietnamese mother and daughter:
a mom's tough standards, imported from vietnam
.