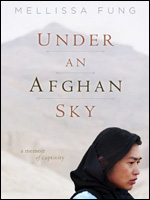 Canadian journalist Mellissa Fung, the CBC-TV reporter who was held captive in Afghanistan for 28 days in the fall of 2008, has just released a memoir about surviving her ordeal,
Under an Afghan Sky
, published by HarperCollins.
In October 2008, Fung was leaving a refugee camp outside of Kabul when she was kidnapped by armed men and taken to a remote mountain village. For more than a month, she was held captive and forced to live in a hole. The book recounts her story of holding on to hope:
I'm just calling to say goodbye
.
The refugee camps in the north were flooded with families fleeing their homes in Kandahar, Helmand and Uruzgan provinces. "I couldn't believe it when I actually saw the size of the camp. . . It was one big slum."

It was a good day to be a journalist. The interviews with families in the camp went well.

Fung, then 35, walked back to the car with Shokoor, her fixer. "My last words to Shokoor were, 'This was good. This was a good story. I'm so glad we came.' "

And then. "A car just pulled up. Cloud of dust. Blue car. And then these guys got out. I didn't even know what was happening. I saw somebody point guns. I saw somebody point a gun at Shokoor. I screamed. The next thing I knew I was being stuffed in the back of the car. I felt a knife in my shoulder."
More here:
Mellissa Fung recounts Afghan captivity in new book
. She spent a month literally living in a hole, surviving on cookies and juice, nursing her injuries, praying and writing in a notebook. Thankfully, she eventually made it out there okay... but it sounds like it did a number on her soul.
I want to read this, but the book appears to be currently only available in Canada. For more on the book, go to the publisher's website
here
.