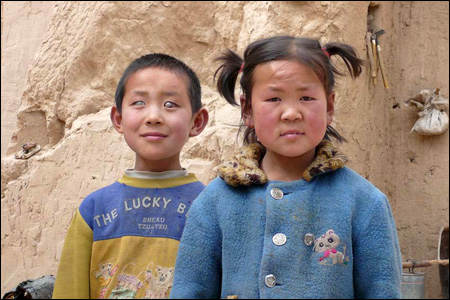 I recently met filmmaker Carol Liu, who tells me about her project
Restoring the Light
, a feature documentary about a local eye doctor's quest to provide free healthcare to remote impoverished villages in northwest China. It looks like a remarkable story. Take a look at the
trailer
:
They've finished editing the film, but currently trying to put the finishing touches on the film by raising money through an
IndieGoGo campaign
. Funds raised will go towards an original music score, as well sound mixing, high definition tape masters, marketing and other post-production costs. Here's a message from director Carol Liu:
When I first began this documentary in early 2008, I was doing so in reaction to two discouraging trends in the way China was being portrayed in the media. For one, I felt there was an overabundance of fear-mongering stories about China's financial rise. Over sixty percent of the nation dwells in the countryside and yet, their stories and struggles somehow seemed less important, even on domestic Chinese television. International documentaries on rural China that did exist felt outdated and had a tendency to gravitate towards ethnography, in which subjects are viewed through a lens of somewhat exotic curiosity. As China was beginning to play an increasingly important role on our world stage, I wanted to promote its budding humanitarian consciousness and craft a portrait of an unobserved society that resonated more universally.

China is a country caught up in monumental changes and contrasts, where coal mine owners drive Ferraris alongside school children suffering from vitamin deficiencies. Essentially one hundred years of progress crammed into twenty, as the saying often goes. Restoring the Light is situated in the middle of all that chaos and is about people who simply try to live their lives as best they can, with the circumstances they have been afforded. It is no small feat and sometimes, local heroes arise out of their midst to do more, like the inspiring figure of Dr. Zhang.

The past three years have humbled and changed me. What started with a very concrete purpose has instead become a very personally affecting journey, and like all personal discoveries, the significance deepens with the passage of time and reflection. During trying times in my own life, I look to the resolve of Rongrong and her family for strength, to the bright spirit of Juncheng for a greater appreciation of what constitutes bliss, and to the determination of Dr. Zhang for the confidence to blazon one's own path. Their incredible capacity for hope, their compassion and quiet resilience enlighten one's own experience of this life we share together in common. I hope their stories will open your heart and mind, as they have mine.
They are trying to raise at least $20,000 before June 21 -- the bare minimum to keep the project moving forward. Your donation will help bring these amazing untold stories to audiences everywhere. Donation starts at only $1. To learn more about the film and to make a contribution, head over to IndieGoGo
here
. Or visit the
Restoring the Light
website
here
.