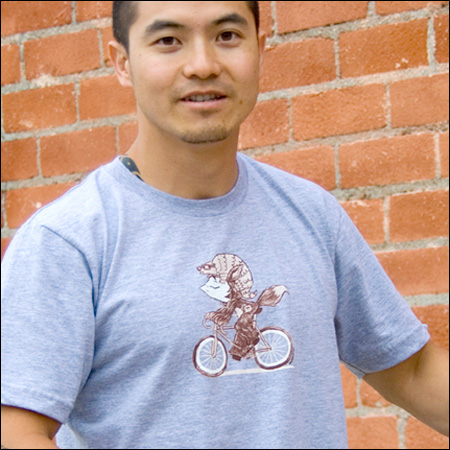 Huge belated congratulations to all the riders who participated in the
AIDS/LifeCycle 10
and completed the 7-day bike ride from San Francisco to Los Angeles, June 5-11, to raise money and awareness for the HIV and AIDS services of the L.A. Gay & Lesbian Center and the San Francisco AIDS Foundation.
(Special shout out to my pals Clayton and Sam, who made it all the way).
The ride is over, but I wanted to share this cool campaign our artist friend Martin Hsu put together to raise money for AIDS/LifeCycle:
Pangolin Rider
. In case you're wondering, that's a little kid in a wolf suit, wearing his Pangolin buddy as a helmet to stay safe.
Cool, right? Martin will be donating all proceeds from sales of the shirt to SF AIDS Foundation at the end of the month. The design is available in both
men's
and
women's
sizes, at just $20 each. And for more information about the shirt, go to Martin's website
here
.