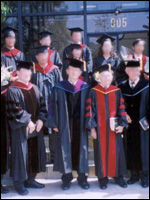 Asians behaving badly... fraudulent pastor edition! Visa fraud, to be specific. In Orange County, a pastor has been sentenced to a year in prison for visa fraud and money laundering:
Pastor gets 1 year in prison for student visa fraud
.
66-year-old Samuel Chai Cho Oh was apparently running a fake religious university in Fullerton, helping foreign students -- mostly from South Korea -- obtain visas. The scheme even involved staging a phony graduation ceremony, collecting $40,000 to $50,000 a month from "students" at the so-called California Union University:
He helped several hundred students - from up to 20 different countries but primarily from South Korea - obtain fraudulent student visas until an informant reported the crime to U.S. immigration officials, prompting an investigation, said Mark Speidel, special agent for Homeland Security Investigations.

Oh, an American citizen, ran the school at 905 S. Euclid St., and was helping students as early as 2007, prosecutors said. He charged $5,000 to $10,000 for college diplomas and another $3,000 to $5,000 for fraudulent visa documents, Speidel said.
Wherever there are people trying to obtain visas, there is some kind of money to be made -- and usually illegally. It's always interesting to see what kind of elaborate schemes people come up with to cash in. This does not quite beat the
fake army unit
. More here:
Fullerton pastor sentenced in student visa fraud scheme
.