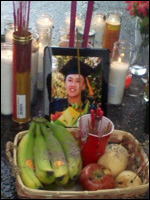 Catching up on some news out the Bay Area, and it's tragic... A couple of weeks ago in San Jose, a Vietnamese American teenager was stabbed to death near his home. Police are calling it a gang-related incident:
Vigil held for killing victim; S.J. police investigate another homicide
.
18-year-old Vincent Tran Le, who had graduated from high school just days before, was found stabbed after an altercation between two local rival gangs. Tran was apparently friends with members of one of the involved gangs. He died at the hospital:
Officers found the San Jose man at about 4 a.m. in the 1700 block of Schulte Drive. He had been stabbed.

Tran was taken to Regional Medical Center in San Jose and pronounced dead a few hours later.

An investigation revealed Tran was stabbed during an altercation between two local rival gangs. Gang-related slogans and hand gestures were exchanged, witnesses told police, during and before the altercation.

Police believe Tran was friends with members of one of the involved gangs. The degree of his involvement remains under investigation.

The investigation also reveled Tran also had been stabbed during a similar gang-related altercation May 1 in the same area as this more recent stabbing took place.

It is unknown whether Tran was targeted. The motive for the altercation remains under investigation.

No arrests have been made. It was the city's 21st homicide this year.
More here:
Police identify victim in gang stabbing
. Anyone with information about the incident is asked to call Detective Sgt. Rafael Nieves or Detective Glenn Albin in the San Jose police homicide unit at (408) 277-5283. Those wishing to remain anonymous can call crime stoppers at (408) 947-STOP (7867) or visit
svcrimestoppers.org
.