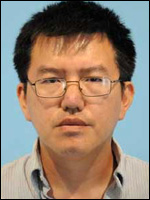 Follow-up on this
awful case
of a weird Asian psycho... Last week in San Diego, proceedings began in the murder trial of Philong Huynh, who is accused of drugging, sexually abusing and then killing 23-year-old Dane Williams in January 2008:
Murder trial begins in 2008 death of O.C. man
.
According to authorites, Huynh would regularly wander the Gaslamp Quarter in downtown San Diego, preying on drunk heterosexual young males, discreetly drugging them, and them having his way with them later in the night. It's unclear what caused Williams' death, but evidence connects him and other victims to Huynh:
Huynh, 40, was arrested in September 2009 and charged with murder and a special-circumstance allegation of sodomy in connection with Williams' death. If convicted, he could be sent to prison for life without the possibility of parole.

Williams, who was from Huntington Beach, had been working for Hurley International and was visiting San Diego for the Action Sports Retailers Convention when he disappeared from the Gaslamp area on Jan. 26, 2008.

His body was found three days later on Landis Street, south of University Avenue, not far from where Huynh lived. The body was wrapped in a blanket and wearing a red cap or beanie.

His underwear was missing, the prosecutor said.

Means told the jury that the blanket was covered with animal hair, which was later determined to have come from Huynh's mother's dog. Eventually, DNA on the shirt and the red beanie was matched through a database to evidence from a Navy corpsman, whom prosecutors say Huynh sexually assaulted in June 2009.
This is seriously disturbing, but what makes it worse is that Dane Williams was not his only victim. Between 2007 and 2009, several young men came forward describing Huynh and his modus operandi. If convicted, Huynh faces life in prison without the possibility of parole. More here:
Trial Begins In Fatal Drugging, Sex Assault Case
.