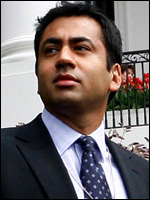 Kal Penn is leaving his White House job... again. The
Harold and Kumar
star will reportedly be leaving his post as an associate director in the Office of Public Engagement later this month for a recurring role on the sitcom
How I Met Your Mother
:
Kal Penn leaves the White House - again - for "How I Met Your Mother."
The actor, aka Kalpen Modi, shocked a lot of folks when his character was killed off
House
so he joined the White House in July 2009. We figured his dabbling in politics was over when he left to shoot the third
Harold and Kumar
movie, only to see him jump back into the D.C. job a few months later when filming wrapped. So what now?
The actor, who became famous for "Harold and Kumar" and "House" - and then a little more famous for leaving "House" to become a bureaucrat - will wrap up his job as his job with the Obama administration this month, a White House official told us.

He's going back to TV, for a recurring role on "How I Met Your Mother." In that role, as first reported by TVLine.com last night, he'll play a love interest for the sitcom's Robin, played by Cobie Smulders.

Penn first joined the White House in July 2009 as an associate director in the Office of Public Engagement. "We deeply appreciate his service," said Shin Inouye, an administration spokesman, "and wish him the best in his future endeavors."
Hell yeah. Kal's gonna play Robin's love interest. Sounds good to me. While I appreciate his service to our great nation, I've been missing Mr. Modi. We just haven't seen enough of him lately, and I think America is ready for the return of Kal Penn, movie/television star. More here:
Kal Penn to leave White House again
.