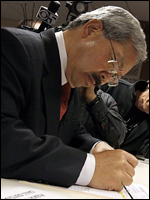 Oh, it is on, San Francisco. Fear the 'stache. Looks like it took some convincing, but after many emphatic promises to the contrary, Ed Lee has announced that he is running for a full four-year term as San Francisco mayor:
SF Mayor Ed Lee changes mind, will seek full term
.
Lee was insistent that he would not seek a full term when he was appointed interim mayor
seven months ago
, saying he wanted his old job back. This didn't stop his supporters, who launched
grassroots campaigns
urging him to run.
But somewhere along the way, I guess he changed his mind. This morning, Lee formally listed himself as a candidate at the city's Department of Elections:
Lee said he'll make his case immediately, participating in a candidates' forum tonight at the Castro Theatre.

His common refrain in his early months as mayor was clear: "I am not a politician." But tonight he'll share the stage with nine other serious contenders who have been in the race for months, including three who backed him in a crucial early vote by the board of supervisors to put him in office.

The idea at the time was to place the city in capable hands without conferring the benefits of incumbency to someone looking to win the office outright. After all, many on the board wanted to run for mayor themselves.

Now Lee supervises dozens of staff who work on city policy, commands the media attention that accompanies the mayor's office and has the advantage of showing voters what he would do in the job.
Ed Lee now joins (and arguably upsets the balance of) an extremely crowded field of mayoral candidates, which includes Supervisor David Chiu, Assessor-Recorder Phil Ting and State Senator Leland Yee.
And of course, as you can imagine, there are more than a few folks who are upset that Mayor Lee went back on his promise not to run. Yup, the race is on, San Francisco. More here:
Ed Lee's new tone of civility hits sour note
.