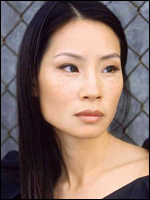 Got the news that Lucy Liu has been added to next season's cast of the TNT cop drama
South Land
:
Lucy Liu Heading to Southland
.
Not a whole lot of details about her role, other than that she'll be billed as a guest star and appear throughout the season as a member of the Los Angeles Police Department. So will we be seeing Lucy in uniform?
Yes, in real life, there are actually Asians working in the LAPD. On TV's version of Los Angeles, we're usually relegated to liquor store owners and gay, beleaguered Hollywood assistants.
TNT announced the addition of Liu to the series on Monday (Aug. 1) but was rather stingy with details, saying only that her character is "a member of the LAPD." She'll be billed as a special guest star and will appear in multiple episodes.

Liu starred in Lifetime's miniseries "Marry Me" last year, but her stint on "Southland" will be her first work on a weekly series since a run on the second season of ABC's "Dirty Sexy Money" in 2008-09.

You can currently hear Liu as part of the voice cast of "Kung Fu Panda 2." Her other credits include the two "Charlie's Angels" movies, "Kill Bill Vol. 1," ABC's "Cashmere Mafia" and "Ally McBeal," for which she earned an Emmy nomination in 1999.
At least we know she won't playing some kind of Asian gangsta dragon lady. (Or will she???) Honestly, I didn't even know that the show was still on TV, but it's apparently heading into its fourth season. Well, all right. More here:
'Southland' scores Lucy Liu for Season 4
.