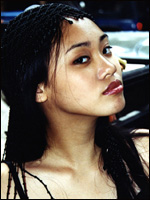 Hey folks. Once again, it's time for another
Angry Reader of the Week
, spotlighting you, the very special readers of this website. Over the years, I've been able to connect with a lot of cool folks, and this is a way of showing some appreciation and attention to the people who help make this blog what it is. This week's Angry Reader is Beverly Nevalga.
Who are you?
Beverly Nevalga. I grew up with a ton of nicknames: Belle, Belly, Bev, Bev-Bev, Bevy, Burger (ask me about that one!), BevMo. 5 cent sale? You're welcome.
What are you?
I'm a first generation Filipina American. I'm really anxious to learn more about the global origins of my ancestors. I've heard that I have pure Spanish, Japanese, Chinese, and Portuguese blood running through my veins. If you look at all our family photo albums, we're like a mosaic!
Where are you?
At home making dinner. I set a goal this year of making at least five Thomas Keller recipes from Ad Hoc at Home. I need a bit more practice and a new source for my ingredients -- Safeway and Trader Joes ain't cutting it. You can tell yourself that you'll dine in every restaurant here in San Francisco. But the experience of making your own food from scratch is so divine.
Where are you from?
Actually I grew up all over the place... from the Philippines, New York, New Jersey, Boston, LA, and now San Francisco. But I'd like to say I'm a citizen of the world. I make it a point to leave the US at least twice a year.
What do you do?
I do PR and social media at
Voce Communications
. Besides creating strategy plans for my clients, I get to plan a lot of cool things too like planning SXSW activations, act as a video producer for client "viral" videos, work with our global teams on social media training, plan trade shows and so much more. I'm fortunate enough to be in close connection with the movers and shakers here in Silicon Valley. There are so many people to meet and things to learn here.
But my involvement with a national nonprofit called
Project by Project
really gets my heart pumping. We're a team of professionals from various backgrounds -- media, finance, law, technology and more -- based in NY, LA and SF. Our mission is to assist local community groups by securing capital, reaching out to a new group of volunteers and bring greater awareness to issues affecting the Asian American community.
We're a nonprofit for nonprofits and this year we partnered up with
OASES
, an organization dedicated to providing education and enrichment programs for low-income youth in Oakland.
Our signature fundraiser,
Plate by Plate
, is a food and wine tasting benefit featuring star chefs, top-rated restaurants, acclaimed wineries, an exciting silent auction and celebrities. Our net proceeds will benefit OASES. We are the only Asian American nonprofit organization in the country that produces a large scale food tasting event like this. Local and national brands, community leaders, media personalities and countless young professionals from various organizations have been so supportive of our movement.
But what impresses me the most about PbP is each of our member's dedication and tenacity. We challenge the status quo, we never settle, we always strive to do better for the sake of our mission. I'm so proud and honored to be part of this group of extraordinary people!
What are you all about?
I'm an adventure-seeker, an explorer, a dreamer, a planner, a daughter, a sister, an aunt, a best friend, a psychologist, a teacher, a workaholic, a party animal, an idealist, an activist, an optimist, a talker, a listener... all rolled into one. Sometimes more of one than another. And at times I just want to be none.
I've always questioned why people stay put in one place and sought to do the same thing over and over. While I cherish tradition and am pretty conservative in my ideals, I'm all about learning new cultures, new lifestyles and experiencing everything contemporary. Sometimes I think I should've been a sociologist because human behaviors and interactions interest me. But that would drive me absolutely crazy since I'm more of a practitioner than a theorist.
If you follow me on
Twitter
, you'll get a small picture of my hopes, dreams and desires and what makes me angry too.
What makes you angry?
Smart, talented women who are afraid of leaving their "nice" personas. Grow up! Dr. Lois Frankel said it best: "Women need to be able to tell someone go to hell and make them believe they'll enjoy the trip."