UPDATE: The Alameda County Coroner has confirmed that the human remains found over the weekend in Sunol Canyon are those of missing nursing student Michelle Le. It has not yet been determined how she died:
Coroner says remains are Michelle Le's
.
* * *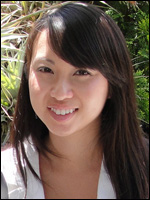 This weekend in northern California, human remains were found during a search for missing nursing student Michelle Le. A volunteer searcher reportedly discovered a body in the Niles Canyon/Sunol Canyon area late Saturday morning:
Michelle Le search turns up body in Sunol Canyon
.
However, the remains haven't been identified, and because investigators were unable to determine the gender, they can't say whether the body is that of Michelle Le. But the remains were found in the same area where police believe Le's body had been dumped by the suspect,
ex-friend Giselle Diwag
.
The body was found in a brushy area off a dirt road near Pleasanton Sunol Road at Verona Road around 10:30 a.m. by a member of one of those search teams, according to police Lt. Roger Keener.

Keener is the lead investigator in the disappearance of the nursing student from San Mateo. Le has not been seen since May 27, and Hayward police have declared the case a homicide.

Keener said the body was decomposed to the point that even identifying whether it was a man or a woman was not immediately clear.

Hayward police sent an investigator on the scene of the search but called in the Alameda Sheriff's Department since the area where the body was found is in that agency's jurisdiction. Alameda County Sheriff's spokesman Sgt. J.D. Nelson said the agencies would conduct a joint investigation until it is determined whether or not the body is Le.
I can't imagine what Michelle Le's family has been going through since she disappeared in May, but this latest development might just bring them one step closer to closure. No word on when or by what means they'll identify the body. More here:
Body found in search for missing California nursing student
.