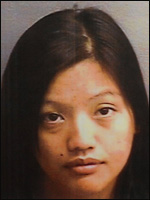 Big break in the case of missing nursing student Michelle Le... This morning in Union City, police arrested 27-year-old Giselle Diwag Esteban on suspicion of killing Le, who disappeared more than three months ago:
Police Arrest Union City Woman In Missing Nursing Student Investigation
.
Esteban is described as a "former friend" of Michelle's. The two reportedly grew up together in San Diego and were good friends in high school, but they had a falling out. Esteban apparently had a restraining order issued against her by her ex-boyfriend, also a friend of Le's, just three days before Le went missing.
Hayward police cited DNA evidence, surveillance camera footage and cell phone records as compelling pieces of evidence that led to Esteban's arrest:
Police said bloodstains inside Le's car belong to Le, who disappeared May 27, and her DNA was found on one of Esteban's shoes collected during a May 29 search of the suspect's home.

Security camera footage at Kaiser Permanente Medical Center in Hayward revealed that Esteban was in the parking structure before and after Le disappeared, and cellphone records indicate that both women's phones traveled a similar route immediately after the disappearance -- with some transmissions coming from the Niles Canyon and Sunol Canyon areas.

There also was evidence indicating that Esteban had been inside Le's car, which was found the day after she disappeared about a half mile from Kaiser.
Put it all together, and an awful lot of evidence points to Michelle's "former friend." However, the investigation isn't over -- they still haven't located Michelle Le's body. I do hope Michelle's family can find closure. More here:
DNA evidence, surveillance footage led to arrest in Michelle Le case
.